7 Types of Facebook Ads for Your Chiropractic Clinic
When it comes to online advertising, there's one social media platform that your practice should absolutely invest in. With over 2.8 billion subscribers worldwide, Facebook is a must. The majority of your target market is likely already on Facebook. In fact, 68% of adults in the US have a Facebook account.
Advertising on Facebook can help your chiropractic practice reach your target audience and attract new patients. In this blog, we are going to show you some of the various Facebook ad options and design examples to try. While there is value in opening social media pages on other platforms such as Instagram and YouTube, the essential platform for your Chiropractic clinic remains Facebook.
We have looked into different types of chiropractic Facebook ads that can meet your clinic's marketing goals. We will also dive deeper into the numerous benefits of advertising on Facebook. Follow these examples for ideas while you navigate through your next Facebook ad campaign.
Facebook Ad Formats:
How do you start your chiropractor's Facebook Ads campaign? To start, Facebook has a couple of core format options for you to try.
1. Facebook Image Ads
The most basic format is image ads. Images ads are pretty straightforward, simply use a photo that shows your chiropractic services.
When you create an image ad, it's important to remember that the quality of your photo matters. Below are some tips to try for your image ad:
No blurry photos
Have a pop of color
Try spine vectors
Educational infographics
Promotional graphics
Photos of patients being treated
Check Shutterstock for stock photos
There are so many free tools out there like Canva that you can use to create your ad campaign graphics. If you have the budget for it try hiring someone who can edit photos and graphics in photoshop. Or even get a professional photoshoot done.
Also if you are having any sort of promotion make sure your copy is visibly clear for patients to read and understand. For example, if you have a free consultation for new patients, you should post an image that features a new patient special in the image graphic or copy.
Here's a basic formula to follow:
Develop a catchy ad copy for your ad
Customize your image to match your copy
Preview your ad for edits
Messages in your ad copy should be specific and have a call-to-action (CTA). Your targeted audience might lose interest in your practice if you're too wordy. Facebook itself affirmed that images with less than 20% text perform better. Most importantly as a rule of thumb don't forget to preview your ad for edits before it goes live.
2. Facebook Video Ads
When it comes to chiropractor Facebook ads, the video format is proven to be one of the most effective online. With videos, you can get your branding and message out in a creative way. You can add a face to your chiropractic practice, building trust with more customers.
Plus, videos provide an opportunity to educate your audience and answer a few questions they may have about Chiropractic care. Throughout your years as a chiropractor, you've encountered patients' common questions. You can create videos that address common back pain issues–such as muscle strain, osteoporosis, ruptured disks, or arthritis–and display an excellent example of what treating a patient with issues can look like.
Video Content Tips
When creating videos for your Facebook marketing campaign, it's essential to keep them concise yet informative. People get distracted easily, and that's why you should keep the video at a length within the 2-3 minute mark.
Facebook provides remarkable data on your video performance, even breaking down how many people watched at least half of your video versus people who cared, let's say the first 10 seconds. This is especially helpful as you develop more marketing campaigns in the future.
Developing videos may take some time and effort, but the return on generating leads has proven worth the cost. You can use the videos you created for your Google ads, and website landing page, and at the same time, play them in the waiting room of your practice.
Learn More: 3 Reasons Your Clinic Should Explore Chiropractic Video Marketing
3. The More, The Merrier: Carousel Ads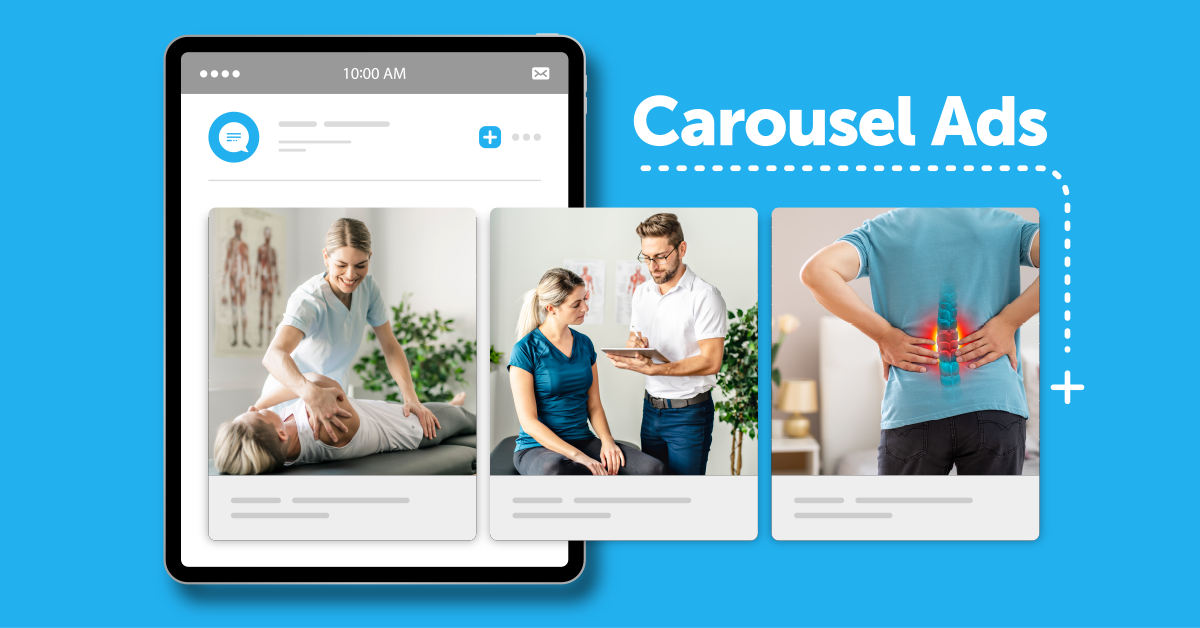 Did you know that you don't have to choose just one image or video? There are instances where one photo isn't enough to entice possible patients to visit your landing page. You can use multiple videos or pictures to push your marketing campaign with carousel ads.
What's excellent about carousel ads is that each image or video in the ad can have a corresponding link, meaning you can lead patients to various landing pages. You can explain a particular service in detail and give an excellent example of the benefits of that product or service. You can tell a more compelling story of what chiropractors do for their patients through your ads by using this format.
Get to know your Facebook Ad Objectives:
Now that we have broken down Facebook Ads formats, we can look at samples of ads with different campaign objectives. What are we trying to achieve from our ads? Here are some examples of ad objectives that we recommend for your chiropractic website.
4. Encourage Online Booking
If you already have a stellar website with an online booking feature, kudos – now you just need to promote it in your Facebook ads.
Here's an example of this type of ad:
You really want to encourage your audience to take the action of booking their next appointment with you. Try using words like easy, fast, and simple, so readers will be more drawn in to take action.
Ads like this leave a door open for you to offer monthly specials or other incentives. We recommend having your address and other contact information in the ad's text copy. The message here is to encourage potential patients to make an appointment through your chiropractic Facebook page or your website.
5. Improve Your Practice's Brand Awareness
Brand awareness ads, the goal is to remind potential patients about your business. Let's create a scenario where your Chiropractic office has moved to a new location and our objective is to bring awareness to this new area. That way you can compete with the other local practices.
You want your advertisement to display your logo and include pictures of your new office, and address. Maybe even add a little message of how excited you are to be part of the community.
In this type of ad, you want to be friendly and inviting while introducing yourself. Consider featuring some bio pictures and telling your patients more about yourself. Tell your story about why you became a chiropractor. You can even show off the special new equipment and facilities you've invested so much in.
Facebook has the data and algorithm to show your brand's ads to the strongest candidates in this new area. This is especially useful when you've moved offices or clinics. While you can Facebook share or Twitter share the news, you can widen the scope through the strategic use of ads.
6. Start A Lead Generating Campaign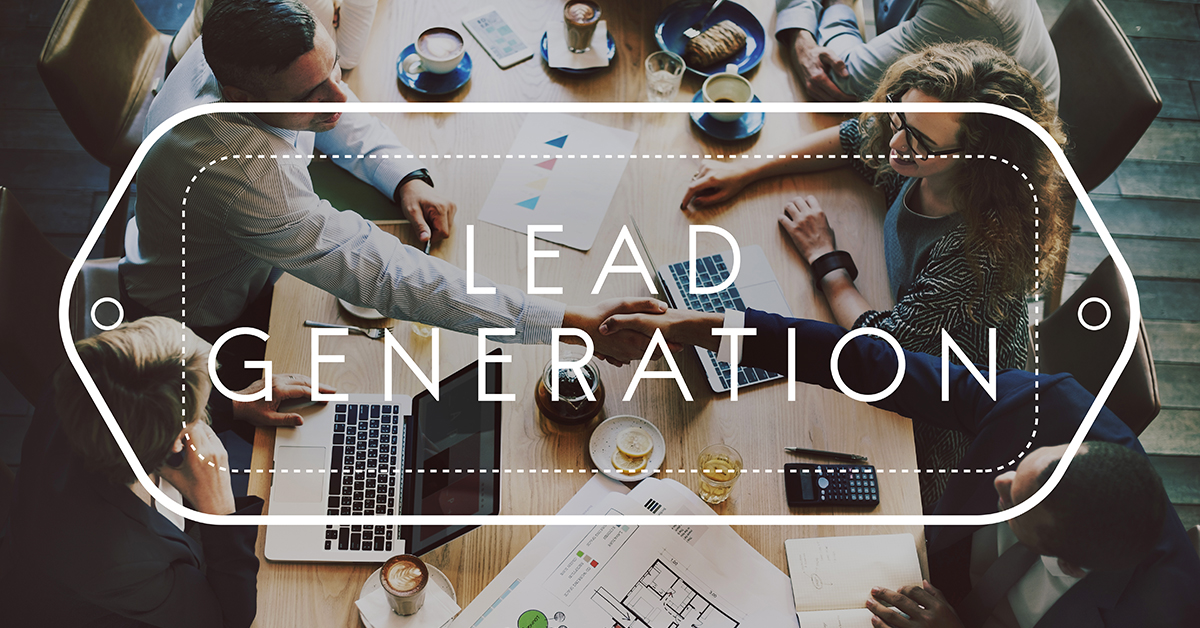 What are lead ads? These are mobile-friendly ads that have the objective to get people to click on a call-to-action (CTA) button and fill out a form with their contact information.
Facebook can autofill a user's data with the information they used for their profiles; it's fast and convenient. Converting viewers to more leads is a tangible goal with this type of ad campaign. Every patient that completes a form is a lead for your Chiropractic business landing page.
For this type of ad, you want to have a contact form built to use, Facebook advertising offers a way to do this through their tools if you want but their other ways as well.
Call-to-Action (CTA) Button
You want your CTA to be clear and enticing. As mentioned previously Facebook has a lookalike audience list they can make for you. This could be the perfect target audience to send your campaign out to and generate those leads. Some popular CTA options include the following in caps: SHOP NOW, LEARN MORE, and DOWNLOAD.
7. Ads That Direct Traffic To Your Website
When choosing traffic as our campaign objective we want to have an ad that features valuable content like a blog post, article, etc. You can also try encouraging patients to click the call-to-action shop now that leads them directly to your website's services pages. This content in your ad can help stimulate potential patients' interest in your services.
We want to start a conversation about the benefits of going to a chiropractor and address common questions patients might have. The goal ultimately is to convert viewers who went to your website to then take action and give your clinic a call. Traffic to your website is always a good thing and here's an alternative way to help patients gain interest in your services.
Benefits of Chiropractic Facebook Ads:
What's great about Facebook ads is that you can bring out your playful and creative side. This platform has so many options and such a wide reach. The possibilities are endless.
Plus, the internet marketing materials you develop for your ads can be used in many ways, helping you make the most of your working budget. If you are not already using Facebook to promote your practice we are breaking down the main benefits you need to know.
Data Giant
Not only does Facebook reach millions of people but the extensive data and algorithm of their users mean they know who in your proximity would be interested in seeking healthcare services like spinal exams, chiropractic adjustments, and massage therapy. Facebook's data and algorithm are so sophisticated that it already knows possible new patients who would be interested in seeking healthcare services like going to the chiropractor.
Custom Audience Targeting
What makes Facebook such an attractive platform for any business is certainly the custom audience options. You can filter and target the right audience that will see your ad campaign by demographics like age, occupation, proximity, and education. But that's not all you can filter your audience to reach potential patients that have already shown an interest in your business. For example, they visited your website or they are on another contact list you have. Then Facebook can create a lookalike list. This is an audience list Facebook creates for anyone who is similar enough to people who have already engaged with your Facebook page. Being able to run your Facebook ads based on your specific campaign objective and reach your target audience will make them all the more effective. landing page
Facebook Ads Manager Tools
Facebook Ad Manager is a free tool that makes the process of running a campaign much smoother. This innovative tool offers real-time insights so you can change an ad's copy, image, and budget if it is not performing well. In addition, it gives businesses advice on retargeting ads so you won't have to spend more money on Facebook advertising.
Budget-Friendly Ads
Another important note to make is that it is usually inexpensive to run Facebook ads.
It's a great advertising alternative for a smaller business on a tighter budget, unlike more traditional advertising. Facebook ads have been proven to be cost-effective. As a result, Facebook reported revenue of $17.74 billion in the first quarter of 2020, an 18% increase from the previous year. Amid the pandemic, more businesses have used Facebook advertising to give themselves a boost and increase conversion rate optimization.
Taking on the Digital Ad World
It's so easy to use and create Facebook ads and posts to keep your patients engaged. While it's a great platform for advertising don't forget to post regularly on your business page too.
It should be noted, though, that Facebook changes its advertising tools annually. That's why businesses must adapt, so you understand any potential changes. Keeping up with the trends and times can be challenging, but on the flip side, you can entrust your Facebook ads and other online marketing efforts to experts who know the tricks of the trade.
We provide full-service digital marketing plans including advertising across multiple platforms including social media. Take on the digital world of ads with some help and save time. For more information on our chiropractic marketing services like Facebook advertising, call 800.792.8384 or click here.